Jeremy Billote - CSC471 Final Project
Goal
Implement a world builder that allows users to place objects/meshes in the world as they see fit and allow to save/load scenes.
Project Description
Unless a world file is provided, the user is initially presented with an empty world. Regardless of the initial world, the user can freely move around the scene and place objects. Objects can be translated and rotated along/about any axis via keyboard. This allows for fine changes in position/rotation. The world can also be saved to load later.
Usage
final_project <Path to resources directory> <OPTIONAL: World file to load>
World File Format
World files are plaintext and contain the following information in this order:
Object type (int from 0-4)
Position X
Position Y
Position Z
Rotation X
Rotation Y
Rotation Z
Material (int from 0-6)
The program does not validate world file structure; it just expects the data in this order.
Controls
Camera

Mouse scroll (ie two-finger on laptop) - Rotate camera
W - Move camera forward
S - Move camera backward
A - Move camera to the left
D - Move camera to the right

Rotation

Q, E - Rotate selected object along Y-axis
R, T - Rotate selected object along X-axis
Y, U - Rotate selected object along Z-axis

Z, X - Cycle between available materials
C, V - Cycle between available objects/meshes
M - Toggle editor/build mode

In editor/build mode, the current selected object is visible and can be modified.
Outside of editor/build mode, keybinds controlling rotation or selected material or object/mesh do not do anything.

Ctrl + S - Save current world

World is saved as world.dat in the same directory as the executable.
Lessons Learned
C++ Features

File I/O

Similar to C, file I/O uses similar functions to standard I/O. The fstream library contains functions that are similar to cin and cout.

String Parsing

C++'s sstream library allows string parsing similar to Java's Scanner class by using functions similar to cin and cout.
Knowledge Deepened
Hierarchical Modeling

While adding the snowman to the list of possible objects for placement, hierarchical modeling concepts were reinforced. Since I built the snowman from the bottom up, adding transforms to the bottom ball of the snowman's body also applied to the rest of the snowman, keeping the snowman's appearance in tact after any transformations.

3D Camera

I found the hardest part of this project to be figuring out how to get the currently selected object to be centered on the screen, regardless of camera position/orientation. To solve this, I had to review how glm::lookAt worked and had to fiddle with it until I got the desired effect.

.obj Structure

Discovered that .obj files contain texture coordinates, denoted as vt and that these were automatically loaded by shape.cpp. I had to cut this out of shape.cpp since the GLSL compiler would complain and crash when trying to render ff14_weapon.obj.
External Resources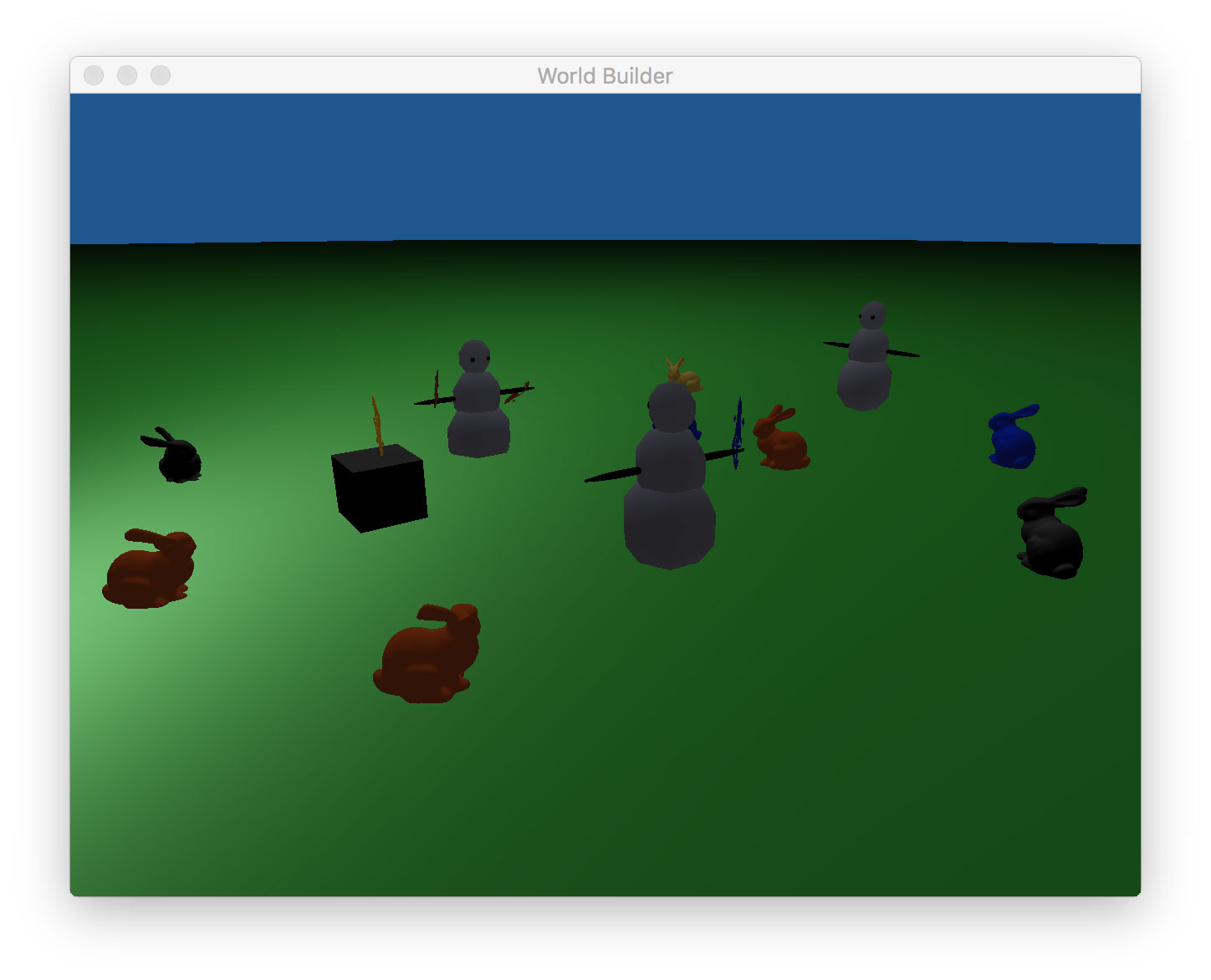 World built for in-class demo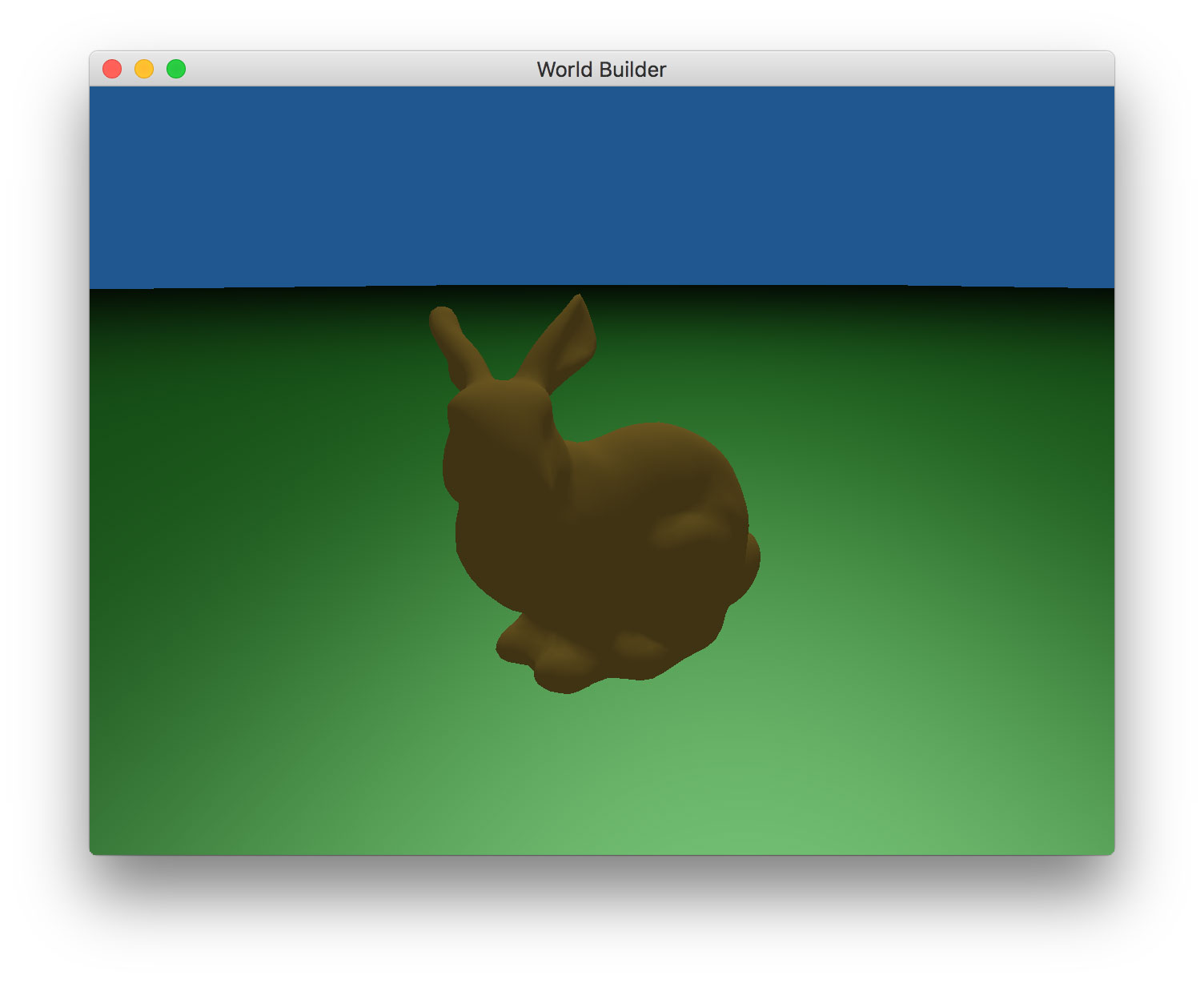 Bunny mesh used (editor mode)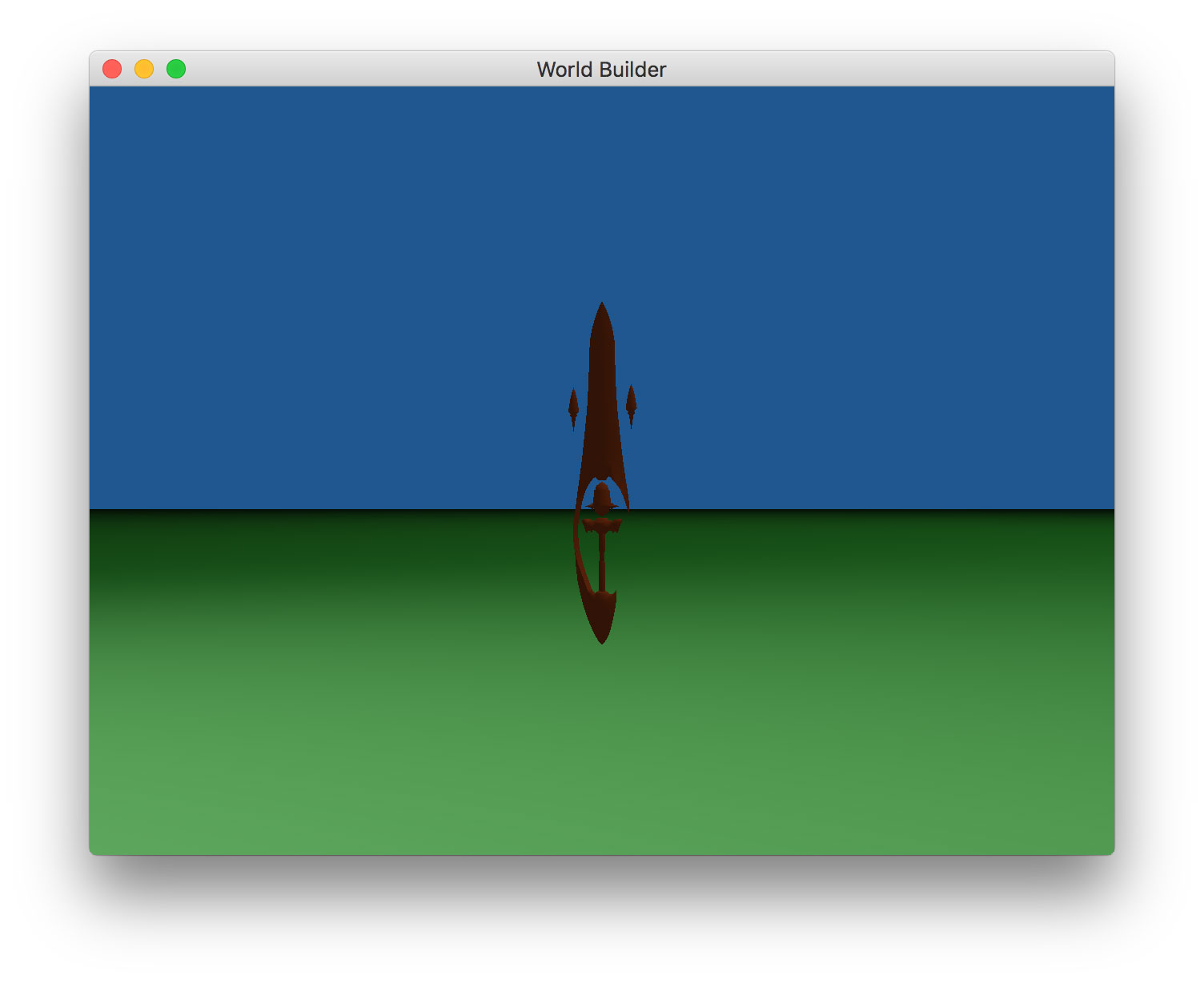 Sword mesh imported from Final Fantasy XIV (editor mode)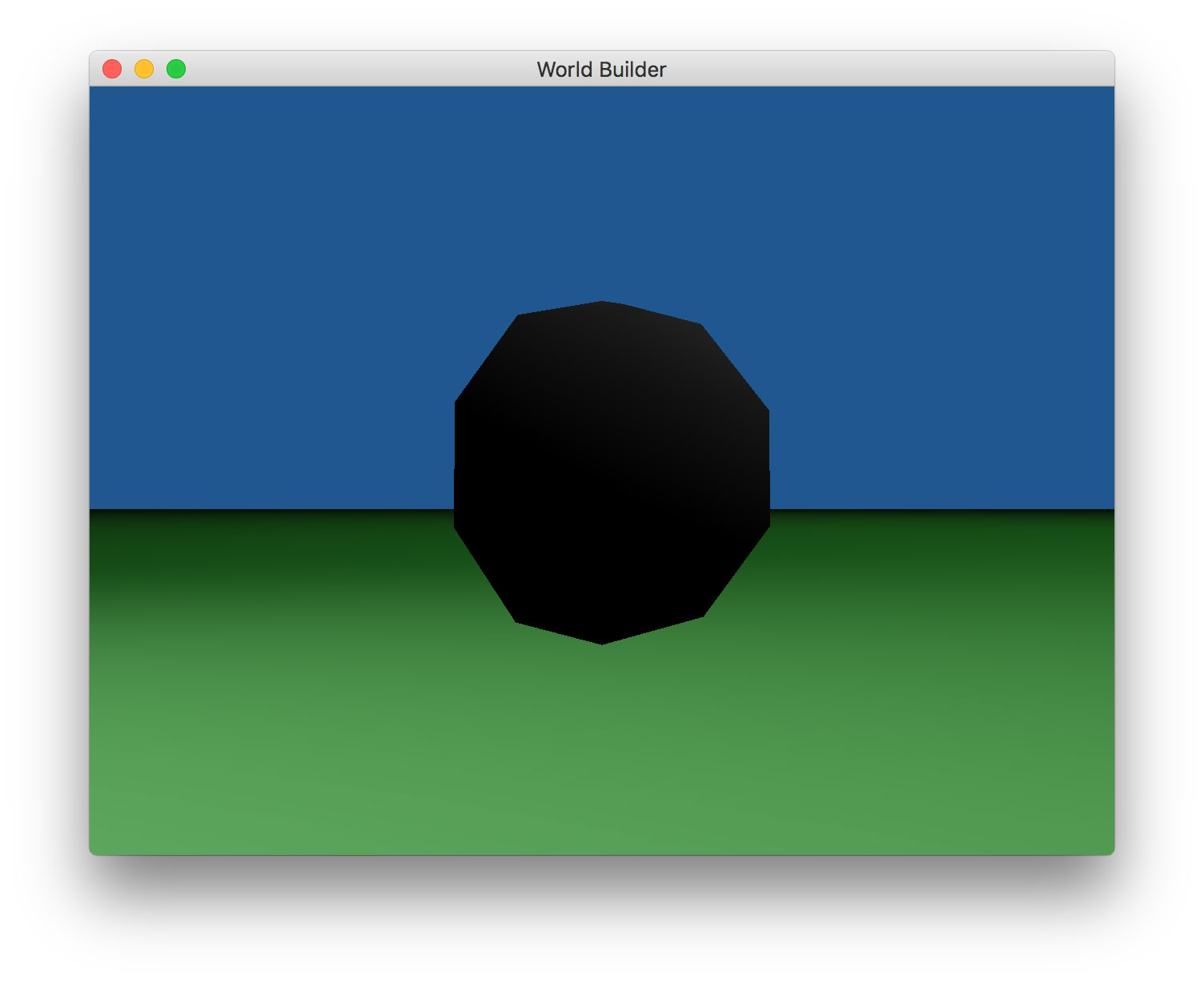 Sphere mesh used (editor mode)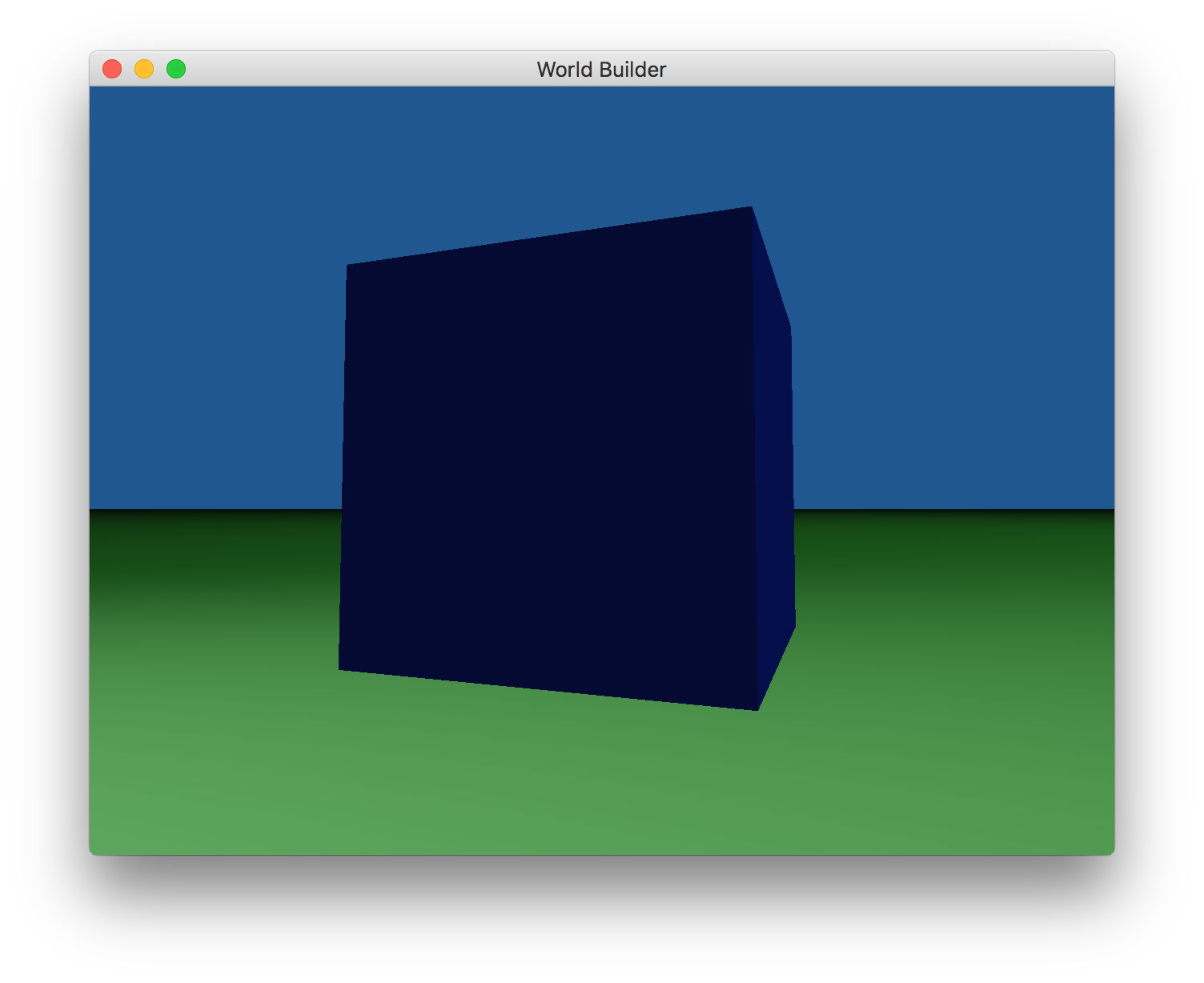 Cube mesh used (editor mode)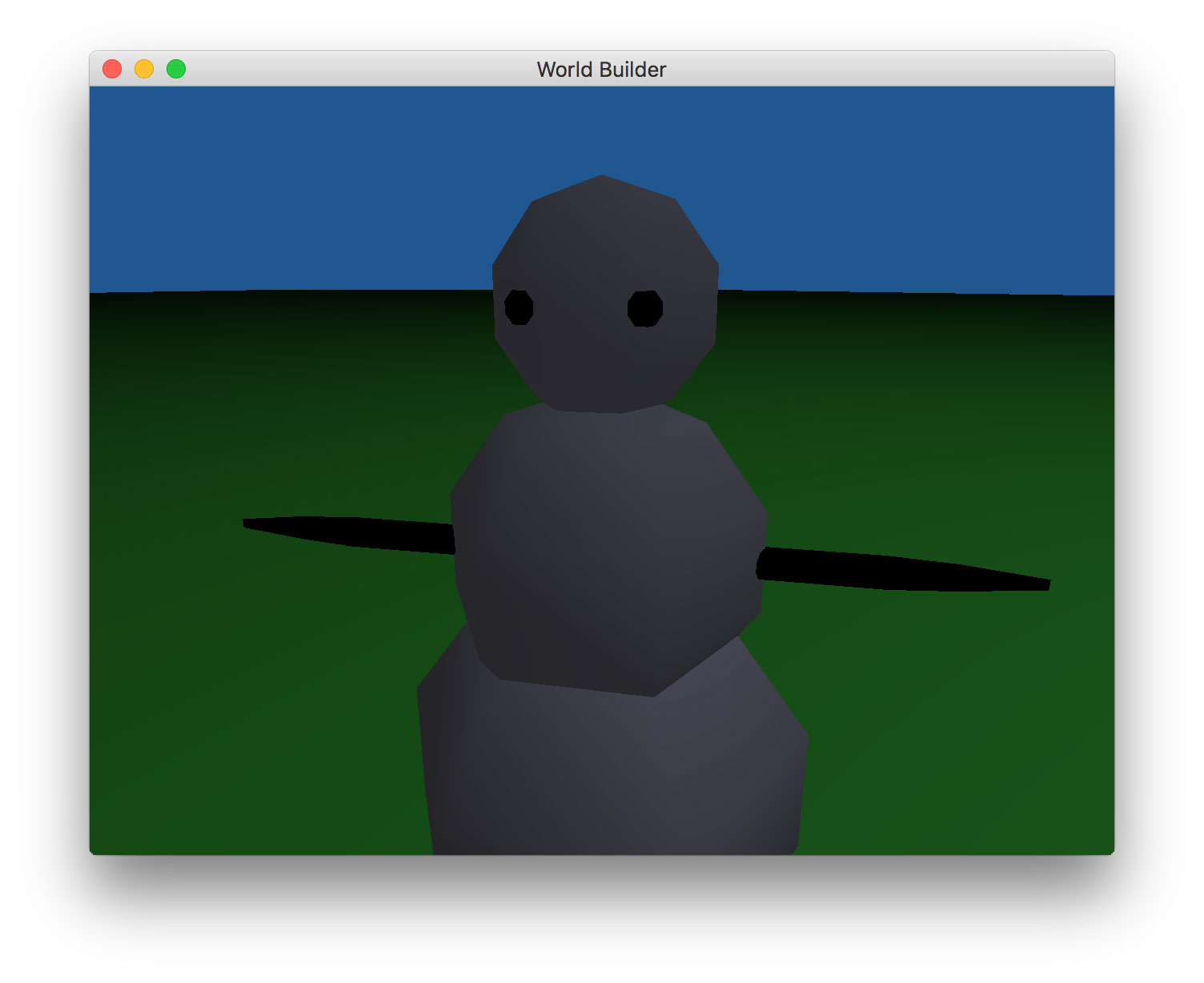 Hierarchically-built snowman used (editor mode)